Looking back at the Navy Dolphin Gitmo Rally on Conservation Report this Saturday
By Jorge De Pauw - Thu 6 Jul 2017 at 16:12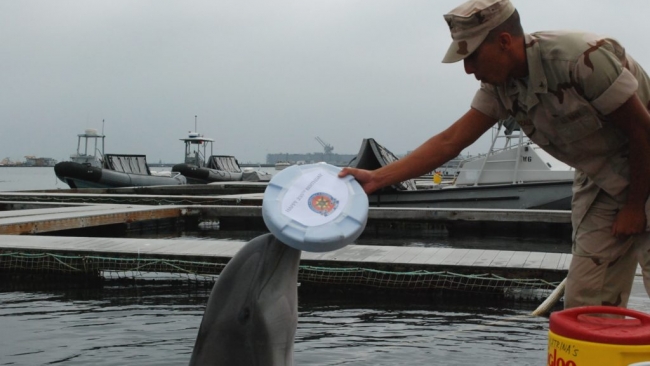 Protest against U.S. Navy Marine Mammal Program was held on October 22,2016 at the Naval Base Point Loma in San Diego CA. For years, the U.S. Navy has held dolphins and sea lions in small enclosures in San Diego (California), Bangor (Washington), Kings Bay (Georgia) and used them in many operations.

Training is similar to that of a police dog and involves 'positive reinforcement' and the use of treats. The US Navy uses trained bottlenose dolphins to locate and mark mines on the sea floor or in shallow water. Other teams of dolphins and sea lions are used to protect ships and harbours, detect enemy swimmers, as well as recover equipment from the sea floor.

The US Navy began its Marine Mammal Program in the 1960s, when it tested species including orcas, sharks and birds. It eventually settled on dolphins and sea lions. Although the animals are housed in the US, they are always on call to be deployed anywhere around the world in 72 hours. In late 80's, insiders found that marine mammal intelligence & military intelligence were mutually exclusive & could not reliably coexist to even minimal national security standards. U.S. Navy finally admits NMMP programs are obsolete due to ROV/Drone technological advances that have replaced human ground troops & air support systems. 100+ dolphins and 40+ sea lions deserve Honorable Discharge.

This $20-30 Million Dollar waste of tax dollars can certainly be put to better use for National Security or Veteran Assistance.
Read more