TEN dead dolphins are washed up on British beaches in just a few days

Source: Daily Mail

By Jorge De Pauw - Mon 16 Jan 2017 at 07:06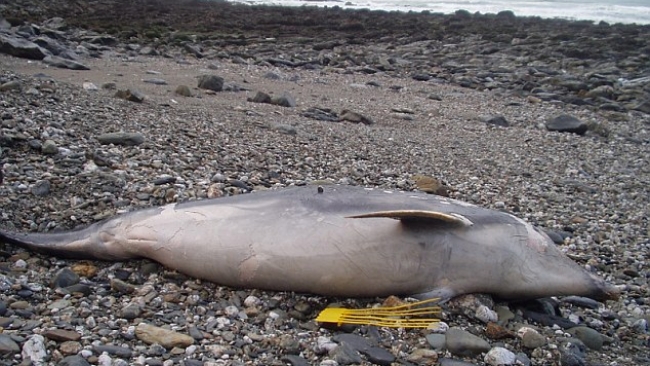 Ten dead dolphins have washed up on the beaches around the West Country in as many days, prompting fears among conservationists over the exact cause.

Pollution, trawler nets, inclement weather and jet skiers have all been cited as likely causes for the demise of these marine animals. Clare Riley was among those who found the latest dead dolphin on the beach near Smeaton's Pier in St Ives, Cornwall. 'It was sad to see - I've been in Cornwall for six years waiting and hoping to see dolphins and I was finally rewarded two weeks ago with an awesome display of a pod playing and surfing the waves at Gwithian,' she said. Another resident, Tony Mason, said: 'I saw them at Gwithian last Sunday, swimming around jet skiers. To then find that one dead was so sad. Such a beautiful creature.'

Between January and March last year, 61 dolphins, porpoises and whales were found dead around Cornwall's coast, the steepest rise in the death toll since 2006, according to the Cornwall Wildlife Trust. They said previous post-mortem tests showed creatures washed up on the shores had died from a number of causes, including pollution, illnesses, natural causes and after being caught in fishing nets.

Scientists have been working with the fishing community to fit sea-going trawlers and other boats in Cornwall larger than 14m with 'pingers', which emit underwater noises to drive dolphins away from fishing nets.

Abby Crosby, from the wildlife trust, urged people to report any dead whales, porpoises or dolphins.


Read more at
Daily Mail
Read more